Pope Francis Names Reverend Jeffrey J. Walsh as Sixth Bishop of the Diocese of Gaylor!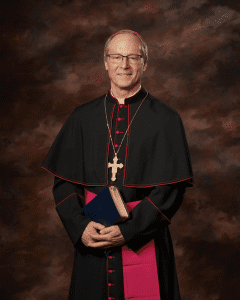 We the family of Our Lake of the Lake Parish and School welcome Bishop Jeffery Walsh as he starts shepherding us as the sixth bishop of the Diocese of Gaylord. May the good Lord who began this good work in you bring it to fulfillment, Amen.
Some from our parish and school families attended Bishop Walsh's ordination and installation on March 4, 2022 at Saint Mary, Cathedral in Gaylord. It was a very special moment in the life of a diocese. A student of Our Lady of the Lake Regional Catholic School, Thomas Janisse was one of the altar servers at the Ordination Mass. Let's continue to keep our Bishop in our prayers and he begins his ministry in our location church. Welcome, Bishop!
Join Our Community
Stay Connected
Download the myParish App
Diocese
of Gaylord